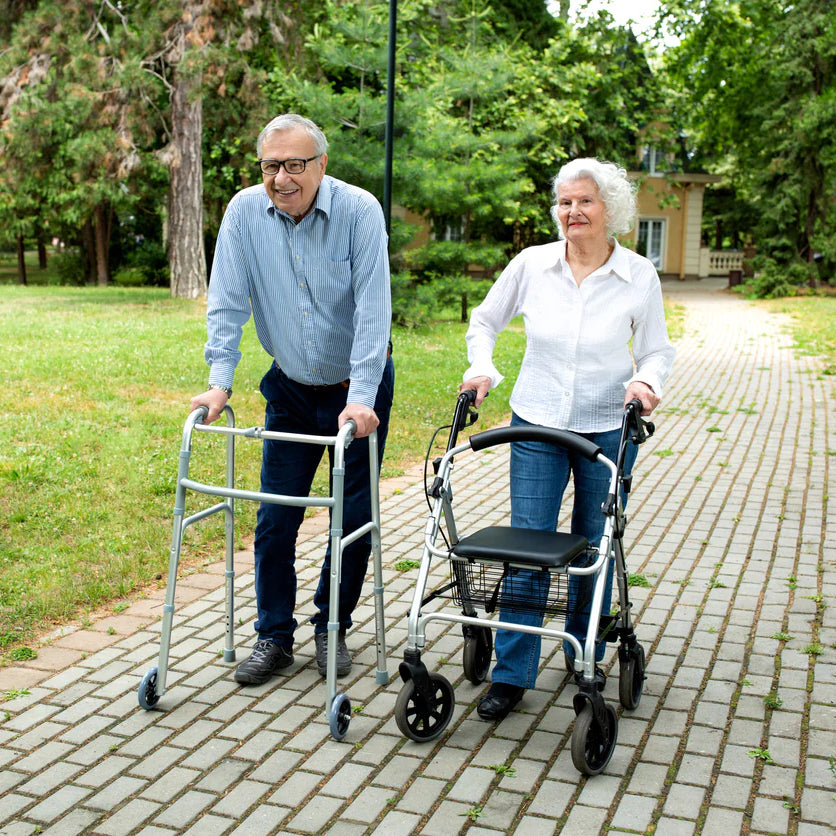 Discover More Freedom
Rollators and rollator walkers can enhance mobility for individuals seeking more independence. Whether you're recovering from an injury or simply looking to maintain an active lifestyle, our meticulously crafted range of rollators offers the perfect solution. Our ergonomic rollator walker designs have height adjustable handles, comfortable backrests, padded seats, and easy-to-use hand brakes. With foldable frames, our rollators fit neatly into compact spaces, making them ideal for travel and storage. Our heavy duty rollators are engineered for a weight capacity of up to 500 lbs. Choose from a variety of rollator walkers with stylish colors and sleek finishes, and regain your freedom to explore the world with confidence.
We're here to help.
Find answers to our most Frequently Asked Questions.
What is a rollator walker and how is it different from a regular walker?
A rollator walker is a mobility aid designed to help individuals maintain balance as they walk. A rollater contains a frame with four wheels, handlebars, and hand brakes. The main difference between a rollator walker and a regular walker is that a rollator walker has wheels and brakes. Rollators allow for smoother movement as the user can push the walker forward rather than lift it with each step. Most rollator walkers come with a build in padded seat and storage compartment for convenience and ease.
---
Is there a weight limit for rollator walkers?
Rollator walkers come in a variety of models and weight capacities. Standard rollators can support weight up to 350 pounds, but our heavy duty rollators can support up to 500 pounds.
---
Are rollators suitable for both indoor and outdoor use?
Yes, rollator walkers or rolling walkers are designed for both indoor and outdoor use. Their wheels make them fit for smooth surfaces, carpets, grass, and sidewalks.