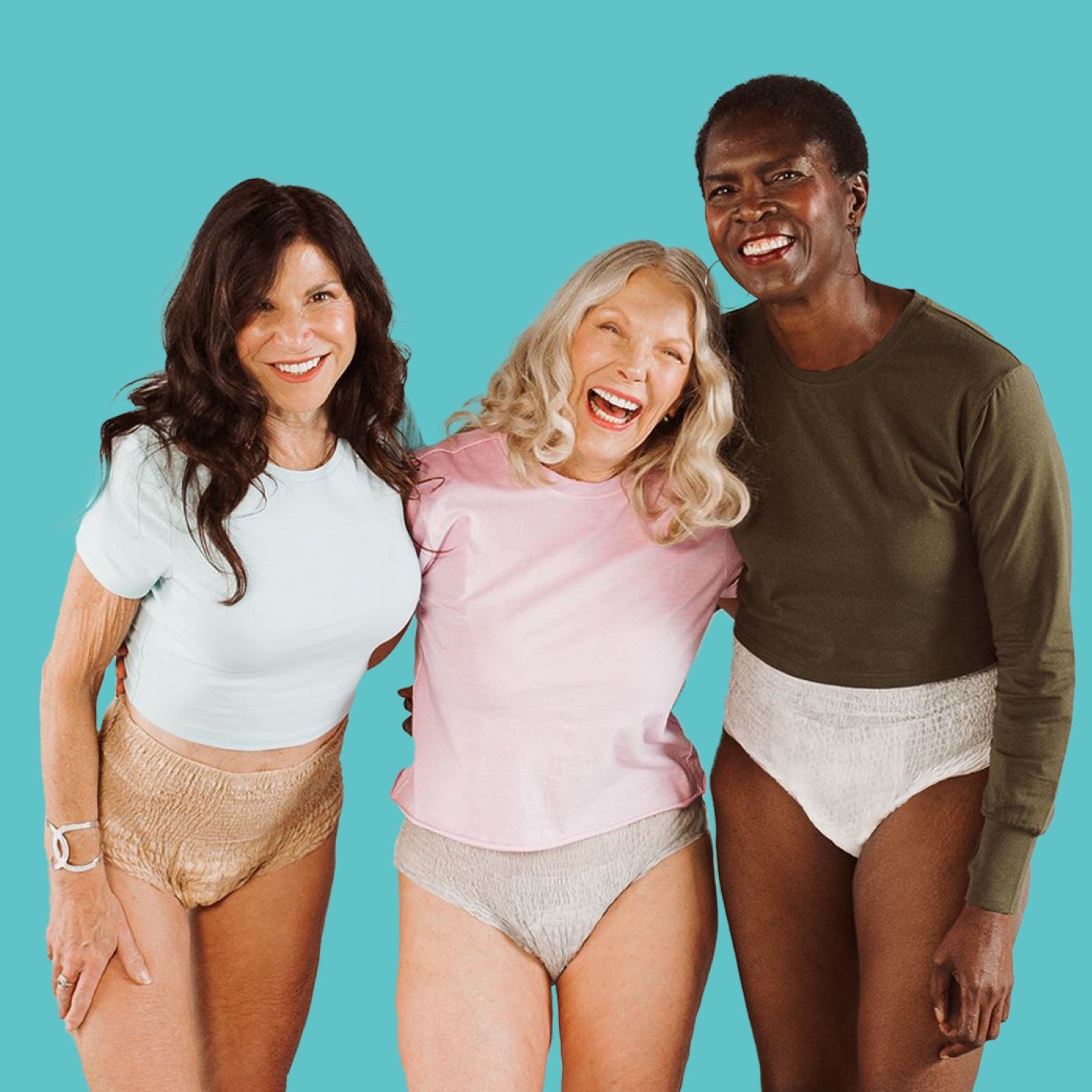 Absorbent Incontinence Underwear & Pads Designed for Women
Specifically tailored to fit a woman's body, our super absorbent adult diapers and pads are designed to prevent leakage day and night. Each incontinence product is built with a high absorbency core, reinforced leakage guards, odor protection, and a comfortable, discreet fit. Designed with sensitive-skin in mind, our incontinence underwear is breathable and latex-free. Our women's adult diapers come in maximum absorbency and overnight absorbency. Our women's pads are available in moderate, maximum, and overnight absorbencies.
Whether you prefer pull-up protective underwear or absorbent incontinence pads, shop Because Market for all of your bladder protection needs.
We're here to help.
Find answers to our most Frequently Asked Questions.
Do you wear a pad with incontinence underwear?
Our super absorbent pads are designed to be worn with regular underwear. They contain an adhesive, waterproof backing that sticks to regular cotton briefs. If you're looking for a pad to wear with incontinence underwear, look for our Booster Pads, which are similar to incontinence pads, without the waterproof backing. Booster pads allow for liquid to flow through to any brand of incontinence underwear.
---
How does incontinence underwear & pads work?
Incontinence underwear and pads work by quickly absorbing large amounts of liquid away from the body and locking it into a super absorbent core. While incontinence pads are designed to be worn with regular underwear, incontinence underwear is meant to be worn alone under the clothes.
---
Can you use period underwear for incontinence?
Period underwear and incontinence underwear share some similarities in terms of design, but they are very different when it comes to construction and absorbency levels. Period underwear typically absorbs 25 mL of liquid, or one-tenth of a cup. Because Market incontinence underwear is designed to hold over 1400 mL of liquid, or 6 cups. Individuals with moderate to heavier leaks may choose to wear incontinence underwear instead of period underwear to prevent leaks and maintain proper hygiene and comfort.
---
Can I wear incontinence pads overnight?
Yes, you can wear incontinence pads overnight. Incontinence pads are specifically designed to provide protection against urinary leaks and are suitable for use during both daytime and nighttime. Consider using an Overnight Pad, specifically designed for overnight use. These pads tend to be longer and more absorbent, providing extended protection and minimizing the need for frequent changes during the night.