Incontinence Underwear
Say goodbye to bladder leaks with our super absorbent underwear that keeps you dry day and night.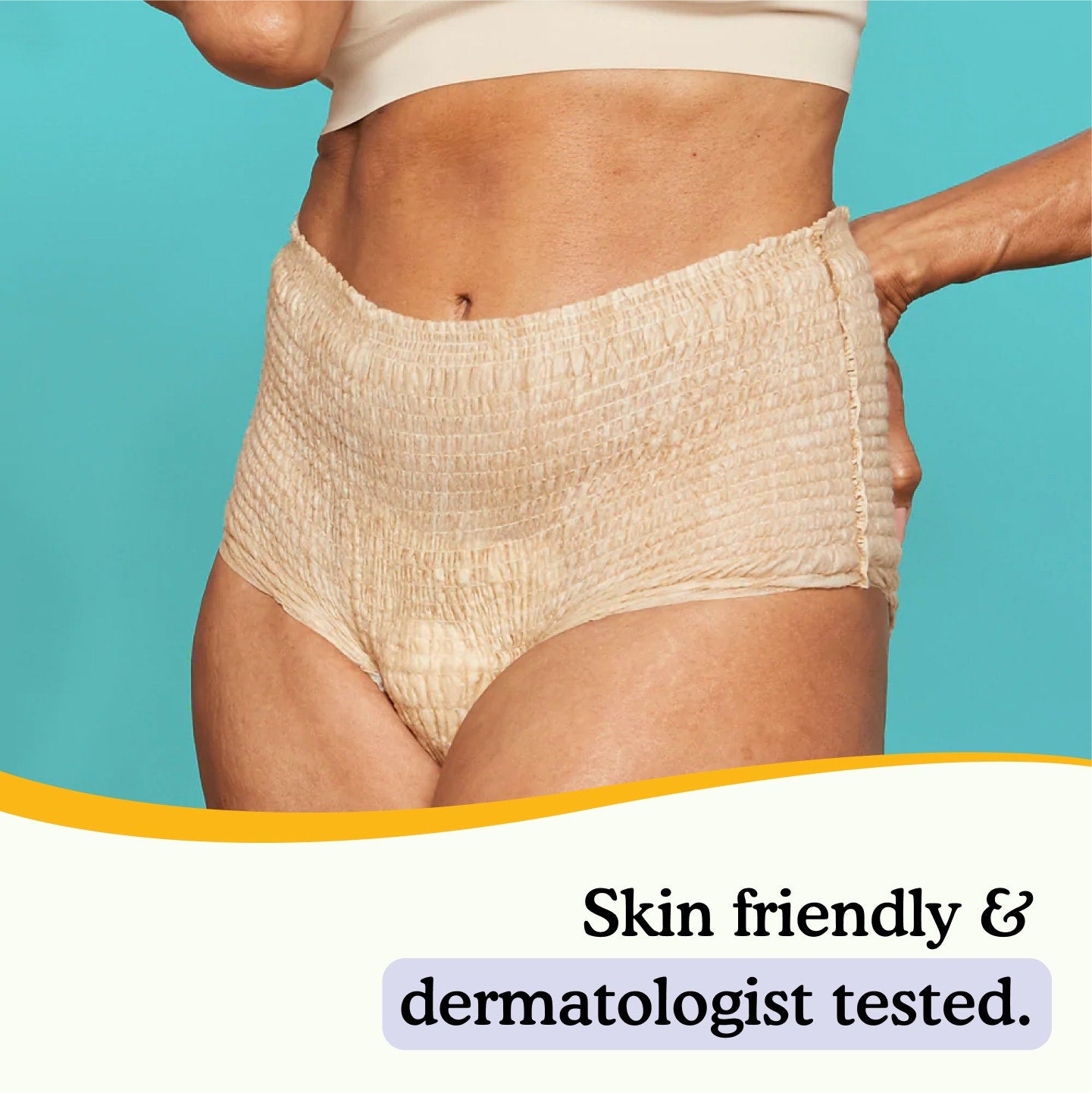 Absorbent Incontinence Underwear You'll Love
Staying leak-free with highly absorbent incontinence underwear that fits is key to managing bladder leakage. Our adult briefs for men and women are built with a super-absorbent core, reinforced leak guards, odor protection, and a comfortable, discreet fit. Our incontinence product range includes maximum absorbency and overnight absorbency underwear.
Our super soft underwear is latex-free and dermatologist tested so you can stay comfortable and irritation-free.
We're here to help.
Find answers to our most frequently asked questions.
How does incontinence underwear work?
Incontinence underwear is designed to provide protection and absorbency for those who experience urinary or fecal incontinence. Incontinence underwear is worn similarly to regular underwear, but it comes with added layers of absorbent material. These materials quickly absorb large amounts of liquid to keep you dry and prevent leaks.
---
How long can you wear incontinence underwear?
The duration of wearing incontinence underwear depends on the absorbency level of the underwear and your specific needs. Some incontinence underwear is designed for light to moderate leaks, while others like Because Market's overnight absorbency underwear is designed for heavier leaks and can be worn longer. Generally, it's a good idea to change underwear as soon as it becomes soiled to prevent skin irritation.
---
How should I choose the right size of incontinence underwear?
Choosing the right size of incontinence underwear is crucial for optimal comfort and effectiveness. To find the appropriate size, you should measure your waist and hip circumference and review our size chart to determine the right size. Avoid choosing a size that is too tight, as it may lead to discomfort and create pressure points. On the other hand, selecting a size too large could result in inadequate protection and leakage. A well-fitting incontinence garment should be snug but not overly tight, with proper coverage and containment for your specific body shape and needs.
---
What types of incontinence does this underwear address?
Whether you're managing stress incontinence (e.g. from coughing, sneezing, or laughing), urge incontinence or overactive bladder (OAB), or overflow incontinence, our underwear is engineered to provide maximum protection and absorbency so you can stay leak-free day and night.
---
Can you wear incontinence underwear every day?
Yes, you can wear incontinence underwear daily if you experience bladder or bowel leaks. It is designed to be comfortable and discreet for everyday use.